Fintrak Software Limited, an indigenous financial technology firm based in Lagos with an international footprint in various African country recently held banking and financial industry of Rwanda in awe with the reintroduction of their solution known as ENTERPRISE PERFORMANCE MANAGEMENT SOLUTION. A software application that is designed for businesses to boost productivity and reduce human error in all the areas of their enterprise. The Fintech also presented their credit management solution known as CREDIT MANAGEMENT SOLUTION, the event was held at the KIGALI MARRIOT HOTEL, in the Rwandan capital City.
Speaking to the Rwanda financial ecosystem, the company described the Credit management solution as a software that was designed to help banks meet the need to identify, measure, monitor and control credit risk as well as to determine that they hold adequate capital against these risks and that they are adequately compensated for risks incurred. The Credit Risk 360 solution is Web based and can be easily accessed from all branches of the bank without separate installations on branch-by-branch basis.
"Banks are increasingly facing credit risk (or counter-party risk) in various financial instruments other than loans, including acceptances, inter-bank transactions, trade financing, foreign exchange transactions, financial futures, swaps, bonds, equities, options, and in the extension of commitments and guarantees, and the settlement of transactions", they added.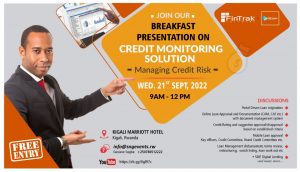 Bimbo Abioye, the Group Managing Director of Fintrak used the opportunity to address Rwandan stakeholders on various features of their solutions such as Portal Driven Loan Origination, Online Loan Appraisal and documentation, Credit rating, mobile Loan approval and other areas of loan management such as SME Digital lending and disbursement.
On enterprise solution they focused on key features such as cost allocation, balanced scorecard, product profitability reports and flexible transfer pricing. All these features are embedded in the solution to make business seamless.
FinTrak Software is a global Financial Technology organization providing innovative technology and business solutions to financial institutions in the financial services sector and enterprises across continents. FinTrak Software is a global company, with business offices in Nigeria, Ghana and Gambia. Armed with and army of software engineers and professionals with competencies across banking, finance, audit, consulting and software development, FinTrak Software is on a mission to support organizations and states with technologies and intellectual strength required to enable them surpass their stakeholders' expectations.
ANTHONY EMEKA NWOSU