Shanty Town Movie is a testament that the Nigerian movie industry is the biggest coming out of Africa and also has cemented Nollywood (pet name for local movie industry ) as one of the top 5 movie industries globally. Shanty Town movie came out depicting the slum of Nigeria, telling the story of cartels running prostitution, drug and extortionist rackets in some of the biggest slums in the country.
Speaking during an interview with Yaw, an online personality with WAZOBIA FM a local radio station in Lagos. Produced by Uche Jombo the Associate producer,Chichi Nworah the  Executive producer and Charles Okonkwo ,Executive producer. During the media  interview, Chi said that " We have been in this movie since 2019, it was written in 2019, while Covid 19 paused it and we commenced shooting after the pandemic. "
"The movie is showing in over hundred  countries of the world and running top in eleven  countries of the world. The government is being aware of the movie industry. Producing the movie is a herculean event, we suffered many challenges "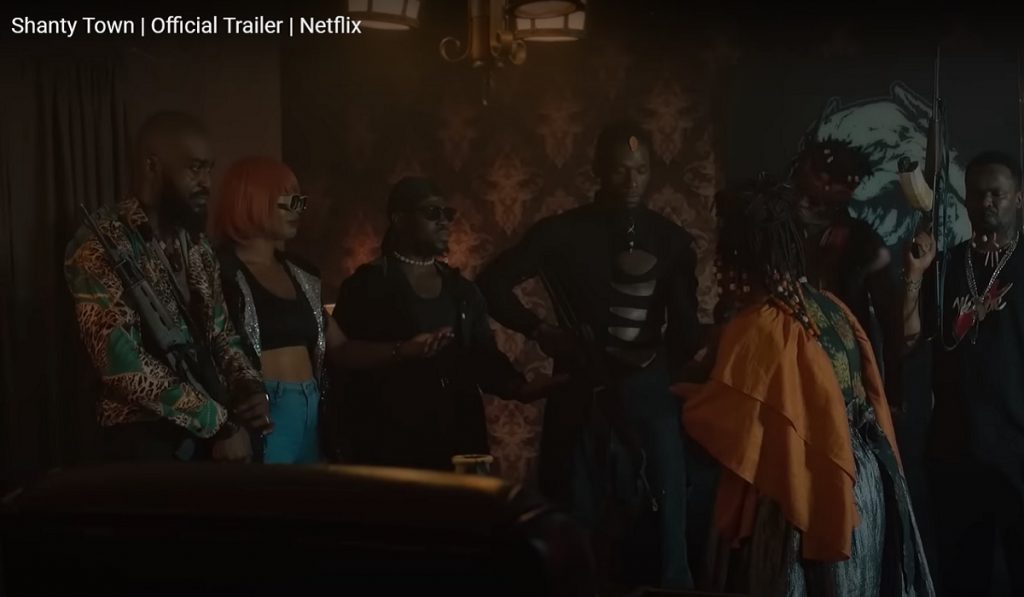 With the finest acts in the country such as Richard Mofe-Damijo, Ini Edo, Chidi Mokeme, Nse Ekpe-Etim, Shola Shobowale, Shaffy Bello, Ali Nuhu, Uche Jombo, Zubby Michael, Nancy Isime, Ini Edo.Produced by Uche Jombo the Associate producer, Chichi Nworah the Executive producer and Charles Okonkwo ,Executive producer with cameo appearance from Mercy of Big Brother Africa
"Shanty Town is an ode to blood, gore, violence, and very little sex, and it shows that Nollywood is truly pushing the envelope. The production focuses on a theme that we have seen quite a bit. A powerful politician is the real brain behind the drugs and prostitution rings in the slums, but 3 episodes in and I was still struggling to understand what the plot is. The use of suspense and mystery is over flogged, and I almost got bored with the build-up", Ọmọ́níkẹ̀ẹ́ Adéòtí of NollyRated.
Anthony Emeka Nwosu