Baby formula has been expensive and one of the biggest fear that new parents have. In short in Nigeria they will tell you that one should use protection because the cost of NAN and other cereal is expensive. Having seen and noticed the plight of Nigerian in terms of feeding their infants with good foods that are created specifically for the Nigerian infants. Roberta Edu, a serial businesswoman and a core IT expert established Moppet to cater for these sets of Nigerians.
Just after a year of doing business. A business that came up during the COVID 19 lock down when shops where closed and there is need to feed kids. Being a mother Roberta researched on the best way to feed her lovely child when the shops and malls are closed. She came up with Moppet. A business born out of idea and COVID 19 lock down.
Speaking on the one year anniversary. Roberta Edu, the CEO and the founder of Moppet said "Today is exactly 1 year since the first Moppet pack with a NAFDAC registration number went into the market.Akinfolahan Joshua was the first customer all the way from the North, we are sending you a carton of the new Moppet.What started with a passion to solve a personal problem, has evolved into a dream and a solution for many parents.
She added that "This 1 year has been purely for building, we've built so much our first pack that was sent out looks laughable to us.Last weekend, we drove through the mixture that has changed, the addition and introduction of new ingredients, the change in the mix, the methods, and the texture, while retaining the rich and nutritious essence."
Talking about ups and down of the business, the delectable Roberta said" We've cried, we've laughed, we have not really lost but have won, lot.We've broken new grounds, established ourselves in the market and have shaped the market.We've moved from nowhere to taking leadership on related keywords on Google search, establishing our presence online.We've moved from nowhere to entering over 500 shelves nationwide.We've learned…. yes we have learned a lot. "
She thanked the workers and her friends in the social media and she said" And we on the Moppet Foods workers list can not take all the credit for all the success.The social media community has been the leading force, recently at interviews, I was asked how we were able to penetrate the market and all I could say was Meta for Business Moppet is a brand build totally from the Internet, 100% social media driven.I thank all distributors who supported this dream, they're many and have been highly impactful."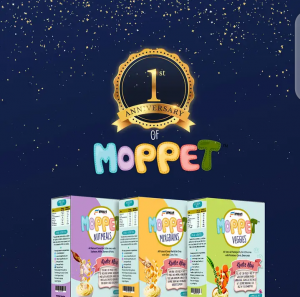 She also thanked special people" But I will like to specially mention Chichi F. Maduka she was the first who signed up to us in Lagos as a distributor, she gave us our first supermarket entrance at Goodiss SUPERMARKET at Bank Anthony Way, Ikeja Lagos.And then Chichi became instrumental than just distributing the product. She edited our pack, make corrections, and suggest additions.She's been like a big sister, always chatting to me, do this, do that, I think this would work. Her recommendation fixed our date coding on the pack, cos we kept talking until we found the right machine."
My Internet family, y'all are too many, Moppet wouldn't be a brand without you, yes and I mean every word of it.
And my husband and partner Oyedokun Omowale you have been so intentional about my success, starting Moppet has opened my eyes to how lucky I am to have you by my side.
My entire family, my Mom 🙈🙈🙈 most of our workers, she has recruited them, Esther Usoro baby, she opened all our social media accounts and social content, and my sister Helen Edu who left her lecturing job to be Moppet Operations Manager.
How can I ever forget my boyfriend Oyedokun Olaoluwa and Dr…. he designs all our main creative, pack, roll up etc.
In the future she said that… "And looking to the future, we are working to give you more and diverse products that we aimed to launch by Janaury 2023 so that the mission to fight malnutrition in African children and create a healthier Nigeria, would be easily achieved."
Over the months from the humble begining in Lagos, Moppet baby food has founds its way from shelves in Lagos to big malls all over the country. With the vision of bringing organic infant formula to Nigerians which is in line with global best practices. Moppet has been described by industry watchers as a game changer.
Anthony Emeka Nwosu