Voke Benjamin Agadagba, the Managing Consultant of VAB Solutions Limited, an indigenous information technology (IT) firm based in Lagos talks about cyber security, the need for organisations to ensure that they have top-notch cyber security system that can stop breaches. He also talks about the importance of customer satisfaction to VAB Solutions Limited. Anthony Nwosu captured this in an exclusive interview.
VAB Solutions as an IT firm has been around for some time, can we know your core areas of IT?
VAB Solutions started operation January 2018 however the company was incorporated September 2017, We like to think of ourselves as an information technology ( IT ) Advisor, meaning we believe our customers ought to understand the core value of IT and appreciate the return on investment (ROI) in any solution that will ease their paint point before getting into any agreement, VAB Solutions derives the acronyms VAB from Values Added Business, our core areas of interest is IT infrastructure and IT Security, we are not a jack of all trade organization but we like to harness the knowledge so as to advise our customers and potential customer the benefits from an end to end solution of their pain points
Strategic Managed and Advisory Services is one of the things you do, can we know about it?
VAB Solutions sees herself as an IT Advisor, Being one of the top tier organization for IT Service Management in the country, you would come to realize that one of our keyword is SERVICES, part of our services is Advisory services, We believe we should advise and educate our customer on a possible solution to their pain points, as such before we get to any contractual term, it is our belief that the customer should be educated, Advised and coached on possible remediable solutions to the possible pain points, Another service we render is strategic managed services, We don't just find a solution to a pain point and then walk away, No, we manage the solutions that has been provided and then embed ourselves in providing values to our customer, not only many customers are now moving to the cloud, due to the fact that they want to face their cores business and leave the IT side of things to the experts, it is at the point we manage the customers critical applications that will yield value to the customer
It is most time cumbersome for firms to comply regulatory matters, how do your solutions address this?
Majority of our customers are regulated by the country's regulatory systems; part of our focus is to make sure that our customers are able to scale through the regulation within the regulated time frame. We are there with them and do the whole 9 mile with our customers. From planning to deployment and execution, we try as much to ensure that our clients and customers are in tandem with the regulatory realities.
You offer strategic IT security solutions to firm, how is yours different from many in in the market?
A lot of IT firms sell security solutions, but we don't follow the same logic in selling security solutions to the market, our approach is the same as some of the vendors that we partner with, First, we like to understand the situation, so we can give the best advice, secondly, we then render solutions that will embed the customer's systems for a long time. We are indeed in business to make money but paramount that is to have a have customer call us and gives us a thumbs up. This a lot shows the value and not the money. I believe the keyword here is value, Many companies sell security solution, but the question is how long does it take for the customer to realize that the tool you have provided lacks some features or doesn't the work as expected, in lieu of the above we only partner with OEM's that have long lasting credibility in the market and solutions that cater not just for the customer but with their solution they can solve the customers issues not for 2, 4, 5years, NO, but a solutions that embeds itself with the customer. For instance, our approach of selling security solution is for the customer to not just see the benefit for 1 year but for a long period of time, giving us the opportunity to win deals for a span of 5-10years period on the initial purchase
Is your IT security also designed for SMEs?
Definitely, we sell security solutions for the Enterprise Market and Small medium organizations, we also factor the organization budget in offering their security needs, being an organization that prefer to render value, we have strong relationships with our vendors and preach the needs to factor all organization in our sales circle. So, we do not have a particular market we are focused in, we can work with the small firms and big conglomerates.
What can firms do to ensure that their data are not breached?
Data Breach can be prevented by taking certain security measures which includes but is not limited to; Ensuring the security application software(s) are running and are up to date. Using multifactor authentication where necessary.  Also, the need to have updated system is critical, as criminals and hacks get more sophisticated the need to have updated system is important.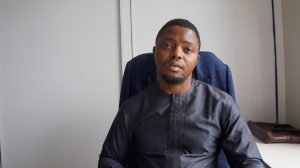 Do you think that data laws in the country are up to date and in sync with the realities of our time?
Yes, they are, and there's room for improvement. You know that it is an evolutionary process, we cannot say as a nation that we have arrived in terms of Cyber acts and laws, there is room for improvement. But,I think the law we have now is commendable.
What are the challenges that you face in business?
Luckily for us, we started off on a good note, however we won't be in business if our customers are not doing excitedly well themselves, majority of the challenges of a startup business is capital, also another key challenge has to do with trust, luckily for us we have built a lot of trust and relationship in the market prior to commencing this journey, in simple truth no one wants a company to tarnish their image and we are in the business to keep a reputation
Tell us about your managed services?
it is a 24/7 system administration that mitigate interruptions from hindering your business with 24/7 system administration. VAB solutions provides timely troubleshooting and issue resolution to ensure the continuous health of your IT environment. our patch management & firmware updates ensure your systems are up-to-date and strategically deploy and schedule optimizations through critical patches and firmware updates. VAB solutions security-first focus guarantees that system flaws are always repaired in a timely and effective manner. then our hhelp desk support provides your team members with the it supports they need to perform critical tasks. Our 24hr /7 days remote help desk support allows organizations to benefit from expert assistance and constant accessibility while saving on costs. the cloud management services we have help you to run your infrastructure in the cloud and support these infrastructures.
What are the things that you have put in place to ensure that clients are well taken care of?
One key factor is well trained colleagues, Chiamaka IGWE has given great support and innovation to our customers and also the idea of knowledge transfers and continuous education, we are proud our customers solutions appreciate the we introduce into the market
Do you think that the regulators are doing enough to support indigenous firms like yours?
Well, we want to be believe they are doing what they can; we hope to see them do more.
I believe the keyword here is value, Many companies sell security solution, but the question is how long does it take for the customer to realize that the tool you have provided lacks some features or doesn't the work as expected, in lieu of the above we only partner with OEM's that have long lasting credibility in the market and solutions that cater not just for the customer but with their solution they can solve the customers issues not for 2, 4, 5years, NO, but a solutions that embeds itself with the customer. For instance, our approach of selling security solution is for the customer to not just see the benefit for 1 year but for a long period of time, giving us the opportunity to win deals for a span of 5-10years period on the initial purchase