Art has always been the Mirrow in which society sees itself, this statement keeps been manifested on daily basis, recently, Kanye Okeke in conjunction with Red Door Art Gallery, Victoria Island recently held an exhibition in remembrance of the Asaba Massacre, an event where indigenous Igbo unarmed male population of Asaba, the present capital of Delta State was killed by the advancing Nigerian army.  The exhibition brought awareness to the plight of the families and asked for a closure.
Speaking on the event, Sylvia Okeke, the mother of the artist, Kanye Okeke said" We are partnering with this prestigious gallery to bring to the knowledge of Nigerians the plight of the people whose relatives were killed. We believe that Government of the day must look into their plight and assuage them. Kanye's works have been created to represent these plights."
"Kanye donated a huge canvass painting where hundreds of names of the young men that were killed in that ignoble murder were written. I think that it is his own simple way of lending his voice. Apart from being an artist, just like the Asaba people, Kanye is an Igbo boy and it is in his place to be part of this noble project."
According to Red Door Gallery (RDG), they said that their role is to provide platforms for artists to thrive. "Red Door Gallery provides a platform for artists to express their creativity without any societal boundaries. We promote "unpredictable art" as predictable art is neither inspirational nor is it collectable. Red Door Gallery serves the entire Art value chain. Ranging from collector consulting/advisory to valuation, restorations, private & public commissions and exhibitions. Our passion is driven by the belief that art is the ultimate form of expression of man's inner most thoughts" RDG said.
Kanye is a boy of 15 who has exhibited in many of the world's museum, having been discovered early and with autism, Kanye's works over the years have brought spotlight to kids suffering from autism, this partnership with RDG has taken his exhibition to a new level.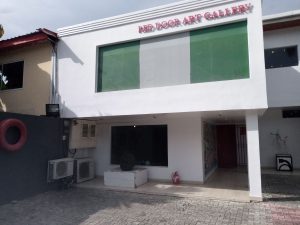 On discovering the creativity of Kanye at a young age, Tagbo Okeke said" we noticed Kanye scribble a lot when he was attending Cradle to Crayon in 2011 but it started manifesting well when he was in pre-Kindergarten at the American International School Abuja and then attended Oakland International School around 2016 before he was moved to Aduvie Primary school in 2019. It was in these institutions that various interventions were given to him to help him to focus. He graduated from Aduvie primary school in July 2022 and started Aduvie secondary school just this September. These schools have made a great impact in his life. This with Zeebah Foundation and OLG Autism Foundation. They help in his therapy and very instrumental to his creativity.
Apart from the RDG exhibition, Kanye has done so many solo exhibitions. with booths dedicated to his works, there was a spotlight on one of his paintings known as expression of harmony which highlighted his works and contribution to autism. Kanye has over the years shown how kids with autism can make impact in life and contribute to artwork. With this milestone, Kanye work was used as a cover-page for the Art Vancouver catalogue. This has made Kanye's work to be a feat being the youngest to have been featured.
"The Asaba Massacre occurred in early October 1967, during the Biafran War, fought over the secession of Biafra (the predominantly-Igbo, former Eastern Region of Nigeria). Asaba (Igbo: Àhàbà) has an interesting ancestral lineage (its origin is linked to Ugboma, Ezeanyanwu, Nnebisi, and Igala in the present Kogi State) though linguistically Igbo, Asaba was never part of biafran territory", Asaba Memorial Monument Organisation concluded.