The appointment of Kashifu Inuwa Abdullahi, the energic young man to pilot the affairs the National Information Technology Development Agency (NITDA) one year ago has seen the agency making tremendous strides through intervention, implementation, regulation and execution of IT policies to the amazement of Nigerians! He didn't come "tasting the waters" as it is the normal thing in most government establishments, he did hit the "ground running" with the zeal of a spartan. The Director General has piloted the affairs of NITDA to a level that admirers and those who opposed him has come to give him kudos, like a Northern star, his strides have remained constant.

Nations all over the world are preparing and making concerted efforts for Revolution 4.0, known in some other places as 4th Industrial Revolution. A period that global economy would be powered by information technology (IT) tools such as automation, artificial intelligence (AI), cloud computing and Internet of Things (IoT). NITDA, as an agency is primed and positioned to spearhead Nigeria's migration to this 4.0. Kashifu has demonstrated the will to lead this strenuous migration, but doing so with tact and ease.
He has shown that he is adept and experienced in the IT ecosystem. In his words, "I am at home being at the helm of affairs in NITDA. As a person that is open to new approaches and strategies, with the experiences I have gained for the last 15 years in the IT sector spanning between the private and the public sector and through unceasing study, my team and I have worked diligently to ensure the continuous development of the IT sector in Nigeria over the past 10 months. Remember, I picked it up from a good place to consolidate upon, considering the foundation laid by my boss and mentor, Dr Isa Ali Ibrahim (Pantami)."

With robust roadmap to work with, this past one year has shown Kashifu working in tandem with the existing roadmap especially on the area of capacity building. NITDA is implementing a strategic roadmap for the development of Nigeria's IT sector. It consists of 7 pillars that are in alignment with the 8 pillars of the National Digital Economy Policy & Strategy. The 7 key pillars of our Roadmap are IT Regulation, Capacity Building, Digital Inclusion, Digital Job Creation, Government Digital Service Promotion, Local Content Development, and Cybersecurity.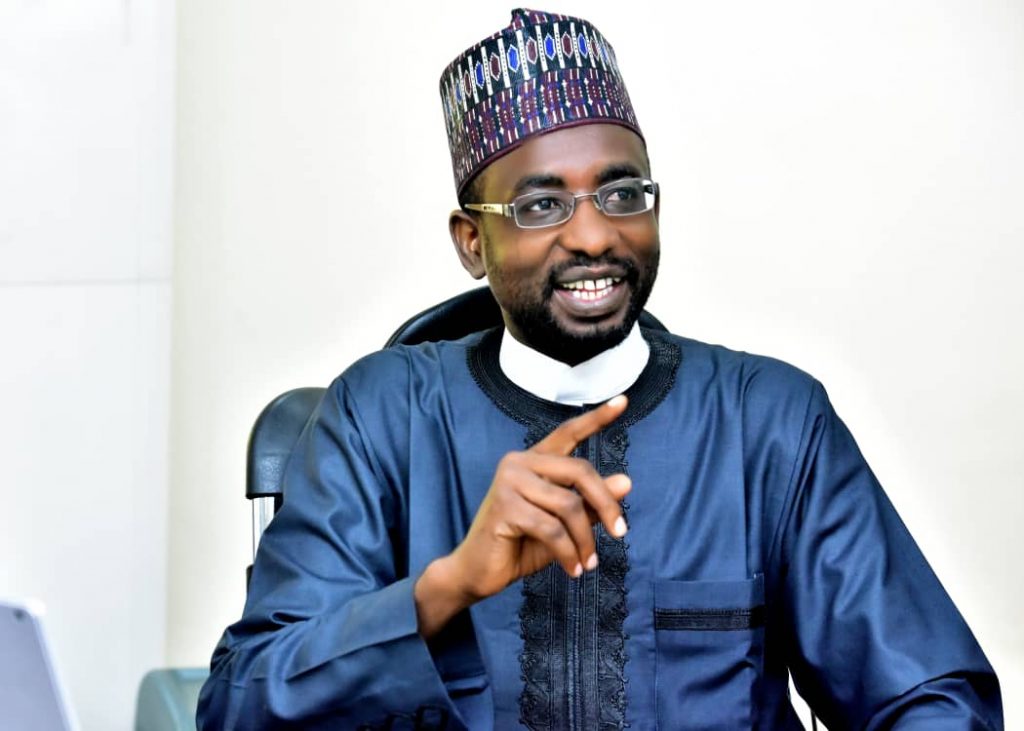 "We have rolled out several policies, regulations, and programs, focusing on those areas. However, as the roadmap is set to expire this year as is the Nigeria Economic Recovery and Growth Plan (ERGP) which it draws from. NITDA has already commenced reviewing it as well as developing the next plan, which will soon be launched", Kashifu said on programs and implementation.
"…with my boss and mentor, Dr Isa Ali Ibrahim (Pantami) as the Honorable Minister, the efforts have resulted the development of the National Digital Economy Policy and Strategy (NDEPS), unveiled by President Muhammadu Buhari, GCFR, during the 2019 e-Nigeria International Conference, Exhibition and Awards, held on the November 28th, 2019. The NDEPS effectively replaces the National IT Policy"

In Africa today, Nigeria is a critical market, leading the pack as an investment destination and as a beautiful bride to the venture capitalists (VC),the country occupied the first position with a total investment of US $747 Million, followed by Kenya with a total investment of US $564 Million and Egypt that attracted a total investment of US $211 Million. The DG understands this and have demonstrated readiness for this by bringing up schemes and policies that will leapfrog the sector.
The NITDA Technology Innovation and Entrepreneurship Support Scheme is one of these scheme targeting startups hub owners and youth with talent and building their skills in high-demand skills. Policies such as Tax Incentives for startups, incentives for investors and access to market for innovation adoption. Establishment of Innovation and Research Fund to further catalyze the growth of startups and there are rigorous plans to ensure we retain about 100,000 ICT Jobs and create an additional 30,000 in the Post COVID-19 Era.

On the area of support of indigenous OEMs, Software development and scalability of IT firms in the country. NITDA under Kashifu is desirous to see that Nigerian IT firms survive and are also protected in a "dog eat dog" world of IT where big corporations give no room for competition. This one year of Kashifu's handling of affairs of NITDA has shown that the indigenous OEMs enjoyed a three times patronage compared to the other times. The agency as of recent spearheaded an increment in indigenous IT firms participation in the ecosystem. Kashifu ensured that local IT firms are given preference in the scheme of things there by making them profitable, scalable and sustainable.

In line with this mandate kashifu said "It is a fact that the purchase of local devices by MDAs is unprecedented within these years compared to previous years before 2018. For instance, in 2015-2016 less than 250,000 devices were sold by indigenous OEMs. However, due to the intervention of NITDA, records show that in 2018/2019 alone OEMs sold three times the numbers sold prior to 2017 with about 778,886 of locally assembled devices sold in 2018 and 2019."

He added "NITDA is implementing the Executive Order and Guidelines vigorously through active surveillance and IT Projects assessment and clearance process of the Agency. Nevertheless, procurement law requires OEMs to either bid directly or work with other contractors to bid to ensure transparency and value for money. If MDAs violate the process NITDA can then be notified for action."

Not only giving preference to local brand, NTDA ensured that the local OEM adhere to the global best practices. Kashifu said that there is also a challenge with the quality of product of some of the indigenous brands. NITDA is making strenuous effort to address this challenge, in 2018, the agency mandated these OEMs to go through a rigorous certification process requiring them to have ISO 9001:2015 for quality management systems. This is believed that it will spur these OEMs to provide products that meet quality and regulatory requirements always as it done in the Western World. Presently, only 3 out of 10 previously registered OEMs have been fully certified.

The agency is working with the Federal Government on the area of IT policy making, implementation and intervention in line with thrusting the nation into a digital economy.
NITDA from August 2019 to date has launched and is implementing the following regulatory instruments: Nigeria e-Government Interoperability Framework (Ne-GIF) Nigeria Cloud Computing Policy (NCCP)Nigeria ICT Innovation and Entrepreneurship Vision (NIIEV), Framework and Guidelines for ICT adoption in Tertiary Institutions, Guidelines for Nigeria Content Development ICT as amended; and Data Protection Implementation Framework.

In the last 1 year that Kashifu has been in the office, NITDA has established 80 Digital Capacity Training Centers (DCTCs) with E-Learning facilities, 6 IT Hubs, 6 IT Community Centers, 4 IT Innovation & Incubation Parks, and 3 IT Capacity Training Centers – all with the aim of bridging the digital divide and providing access to the unserved and underserved population.
Not yet done, though with an eye on the futuristic 4th industrial revolution, the DG understands the current realities of Corona Virus, its impact and how to emerge in a Post Covid 19 stronger. Having this in mind, Kashifu spearheaded the establishment of Tech4COVID19 Initiative – This initiative is set to measure the impact of COVID-19 on the tech ecosystem and proffer solutions especially for startups. Also, the establishment of Virtual Startup Clinic where Startups and mostly young people to meet with mentors, successful entrepreneurs, investors, industry specialists, business consultants and hub operators with the goal of solving problems and challenges they were facing. And finally, the Nigeria COVID-19 Innovation Challenge. This is online innovation challenge where youths proffer solutions on the challenges the society is facing as a result of the COVID-19 pandemic. 5 startups with highly innovative ideas were selected for the final challenge and 3 of them were selected for further incubation. A support of ₦1 000,000 ₦750,000 and ₦500,000 were won by the 1st, 2nd and 3rd winners respectively.
This past one year has seen a turn around in NITDA's activities, with constant pushing of narratives and adopting to the current realities under Kashifu Abdullahi, he has within a short period of time shown that it is what it is, which is proving that a young man can change an agency within a short time under the mentorship of his predecessor.

As a team player, Kashifu is working with the Minister of Digital Economy, Isa Pantami on the best ways to position the country so as to reap the immense benefits in ICT sector and also drive the country's diversification from oil and gas to IT, making Nigeria an IT destination. "…with my boss and mentor, Dr Isa Ali Ibrahim (Pantami) as the Honorable Minister, the efforts have resulted the development of the National Digital Economy Policy and Strategy (NDEPS), unveiled by President Muhammadu Buhari, GCFR, during the 2019 e-Nigeria International Conference, Exhibition and Awards, held on the November 28th, 2019. The NDEPS effectively replaces the National IT Policy", he concluded at a recent chat.
"NITDA has established 80 Digital Capacity Training Centers (DCTCs) with E-Learning facilities, 6 IT Hubs, 6 IT Community Centers, 4 IT Innovation & Incubation Parks, and 3 IT Capacity Training Centers"
Anthony Emeka Nwosu