With low level of fire insurance in Nigeria, the residents of Baruwa Area of Lagos State, an outskirt of Ikeja saw one of the biggest mayhem this year. This is as a result of fire outbreak and houses were burnt with many casualties and dead and still counting.
Allegedly, the residents of the environs said that gas canisters and cylinders got exploded. This was as a result of either heat or someone masking call around the premises where cooking gas are being sold. Though the fire started in the midnight we can't possibly say it was as a result of heat or sabotage or even negligence.
Property worth billions are being burnt with many houses according to the time of report are about fifteen. Residents are worried, petrified and confused… Though the Lagos State government has sent the fire department to come and put the inferno under control.
As of the time of this report, residents are seen evacuating their properties ann's personal belongings and the state would cordon off the area for reoccurance.
Unlike the Western world where there are gas pipelines to homes for cooking, here in this part of the world, people go to street side to buy cooking gas they basically refill thee gas with little safety procedures and most times these highly inflammable products such as gas and patrol are sold in residential environment for nearness to customers and market.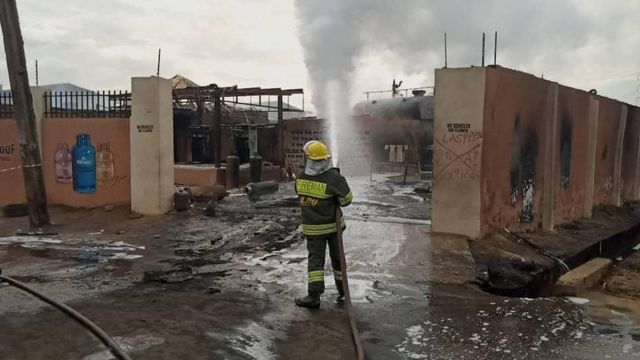 Anthony Emeka Nwosu