Desmond Elliot the actor turned legislature representing the Surulere constituency in the Lagos State House of representatives has been under spotlight once again for "misyarns" or his position on social media. Twitter has been agog and he has been literally "dragged" in the twitter for two critical things which are calling the the ENDSARS protesters and Twitter users "children " and his position on social media bill which allegedly he said to be at the forefront of making into law.
Trending recently under the hashtag #DesmondIdiot , Desmond Elliot has been callers different names and this is just coming after his position on Godfatherism and it's merits. Though the actor cum law makersl has come to apologise saying that his emotions got better part of him.
Sounding contrite and remorseful, he said ""I did not mean to be insensitive with this, it was borne out of the magnitude of destruction and looting of businesses I witnessed when I went on a tour of my constituency."
"I saw women crying and my constituent members distraught as a result of the damages inflicted on their source of livelihood. I was moved by this while giving my submission on the floor of the House"he added.
He balmed it on his emotions, he said "I allowed my emotions to get the better of me and for this, I apologize to everyone my earlier statements may have hurt."
Olola Motilola Toyosi in maher said on her Facebook page "Today, Nigerians youths officially changed #DesmondElliot name to #DesmondIdiot.This is what, "TALKING IN THE RUBBISH" sounds like. "
"So because you now wear agbada and cap, we have become children? In this life, some people you think have sense will disappoint you and break your heart. See the only constituency project we know say him do. You want to regulate social media and take away our freedom", She added.
"Anyway , we just dey start with all of una. We will RECALL you. Start packing your bags, You are coming home.#saltlady", she concluded.
In line with Lola, Philip Onyia Ayo said "Our ancestor # Desmondidiot said social media is the problem of Nigeria, he even called us children. How old is the guy sef?
Just because he is wearing agbada and sitting with oldmen, he thinks he is an elder now.What a disgraceful guy."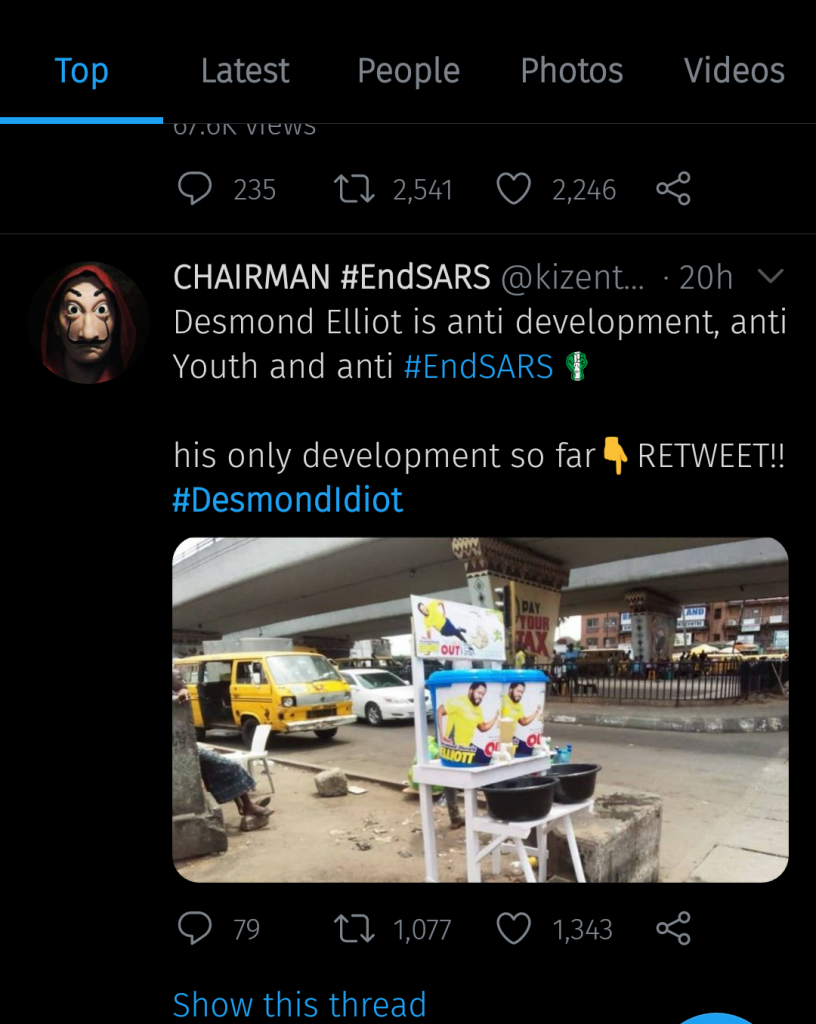 Celebrities and social media influencers have fallen out with Elliot saying that he is flippant amd lacks decorum. From Don Jazzy to Simi to DJ Neptune, they took their twitter page to lambast Elliot for flippancy.
Desmond Elliot is a Nigerian actor, director, and politician who has starred in over two hundred films and a number of television shows and soap operas. Today, he is a representative member of Lagos State House of representatives.
Anthony Emeka Nwosu